100 Doors Solution – Door 43, 44, 45, 46, 47, 48, 49, 50 (All levels)


New levels at 100 Doors! Today the developer published a new update with new levels. Here you find the solutions for the levels.
Solution: Level 43 to 50 of 100 Doors
But at first we want to say that we not finished all levels because it is very difficult. If you know the solution of the levels, we don't have, then leave a comment.
100 Doors: Level 43 Solution
Level 43 is relatively simple. The arrows indicate that you have to change the direction of the colors. Just replace the colors. For this you need a good memory or a screenshot. Here we have the solution of level 43: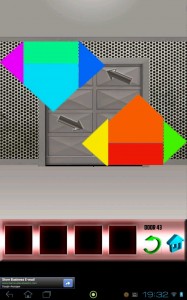 100 Doors: Level 44 Solution
There is a bug at level 44. If you cannot drive to the right side, then you have to update your app. After this, level 44 is possible to solve.
The solution of level 44: ou have to "paint" the path on the ground. At first you have to push the button at the top right, then go to the bottom left button, then bottom right, and finally top left. The door should open now. Here again a screenshot: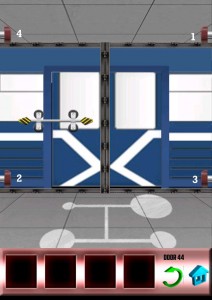 100 Doors: Level 45 Solution
At level 45 you have to look at, which are the 12 symbols in the middle and set the missing. The order does not matter. These are:
Symbol – Line 2 column 2
Symbol – Line 3 column 4
Symbol – Line 1 column 3
Symbol – Line 2 column 1
Here again a screenshot: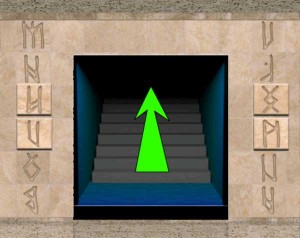 100 Doors: Level 46 Solution
The solution of Level 46: Here you have to click the arrows in the correct order:
First: The arrow to the right of St
Second: The double arrow (crossed)
Third: the arrow far right
4th: the arrow at the top
5th: the oblique arrow
Here again as a screenshot: the arrows are displayed, including order: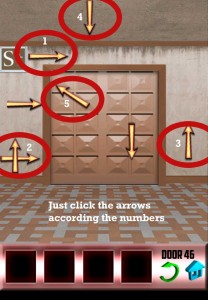 100 Doors: Level 47 Solution
Solution: Just click in Level 47 on the fields, we have marked (chessmen on the fields a1, f1, d2, c8, e7). Then press the push button.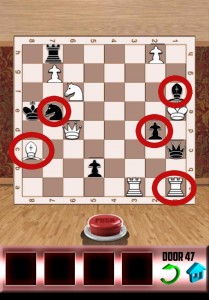 100 Doors: Level 48 Solution
Below is the date "23 July 2012" indicated. Look next the door. There's a math problem: 320 + BOX = 412 and on the right side: 529 + TRIANGLE = 608. At the top you find 815 + 20 = 904.
The solution for level 48 is for the triangle 10 and for the box 23. Set this solution and the door opens. Screenshot of Level 48: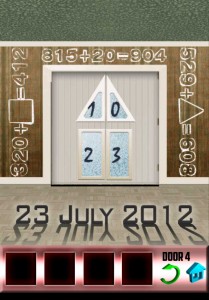 100 Doors: Level 49 Solution
Every picture stand for a number. Just click on the pic as the number written above the door. You have to count the parts of the pictures. So you have to start with the sun (7 parts), then the Chair (5), wave, the Roman Two, the Triangle and last but not least the building. Here is the solution from Level 49 as screenshot: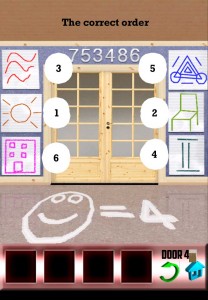 100 Doors: Level 50 Solution
Finally, a easy level. The pictures above are taken together with an image next to the door. For example: The wolf howls at the moon, the Jini comes from the magic lamp and so on. Here is the solution of level 50 as a screenshot: